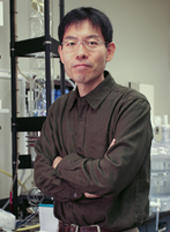 Lunenfeld-Tanenbaum Research Institute
Mount Sinai Hospital
Joseph & Wolf Lebovic Health Complex
600 University Avenue
Toronto, Ontario
M5G 1X5
Tel.: 416-586-4800 ext.4936
► Web of Science Researcher ID
E-4582-2013
Dr. Kenichi Okamoto
INVESTIGATOR
Dr. Okamoto's research focuses on understanding the molecular mechanisms that control brain functions such as learning and memory. His research is at the leading edge of neurobiology and microscopy combined with modern laser optics, and his approach to developing specific therapeutics for brain diseases is globally unique.
Dr. Kenichi Okamoto was recruited from the Picower Institute for Learning and Memory at the Massachusetts Institute of Technology to the Lunenfeld-Tanenbaum Research Institute, specifically to join the neurobiology research team, in October 2008.
Dr. Okamoto has already developed a novel technique and instrument to visualize very specific molecular protein functions in the brain; this technique is being used by scientists around the world to examine and understand the behaviours of proteins tied to a variety of brain diseases, especially Alzheimer's disease.
At the Lunenfeld-Tanenbaum, Dr. Okamoto will build on his previous work and develop a complementary tool that will enable him to manipulate specific protein functions temporally and spatially using laser optics techniques. This is significant because the spatiotemporal manipulation of disease-related proteins has the potential to change the course of disease progression and health outcomes. In fact, the manipulation of disease-related molecular protein function is key to advancing the development of specific, targeted, and personalized therapeutics.
Dr. Okamoto's work will entail designing and building an original microscope that will be equipped with infrared lasers. These lasers will allow for simultaneous visualization and manipulation of a specific protein in real time.
At a Glance
A leader in neurobiology and microscope development
Research relates to autism and Alzheimer's disease
Uses modern laser optics to investigate and visualize very specific functions in the brain
Holds the Canada Research Chair in Molecular and Cellular Neuroscience
Major Research Activities
The brain is a self-organized system which generates and modulates neural circuits to adjust brain functions. Neurons form neural circuits through synaptic structures in an activity-dependant manner. Long-term potentiation (LTP) and long-term depression (LTD) are long lasting changes in the synaptic response that causes structural changes in the synapses. This is known as synaptic structural plasticity. Dr. Okamoto aims to better understand the relationship between synapse structural plasticity and the reorganization of neural circuits underlying learning and memory. His work could provide further insights into the study of brain diseases as well as strategies for neural repair.