Message from our Director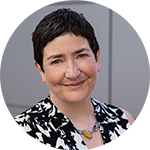 I am honoured to become the Director of the Lunenfeld-Tanenbaum Research Institute (LTRI), a world-leading biomedical research institute founded in 1985 by the visionary Dr. Louis (Lou) Siminovitch.
Since its inception, the Institute has attracted innovative scientific leaders that have set up cutting-edge research programs across fundamental and applied fields ranging from developmental and network biology to translational and health systems research. Multiple discoveries in diabetes, cancer research, women's and infants' health, stem cell biology, neurobiology and more, have made LTRI the beacon of research excellence that it is today.
Our successes have only been possible due to the fantastic teams of collaborative researchers, clinician scientists, students, post-doctoral fellows, and committed research and support staff across the spectrum of research at Sinai Health and the LTRI. This excellence was strongly supported by all previous LTRI directors, most recently Dr. Jim Woodgett, who expanded the clinical research portfolio of the LTRI, and Dr. Steve Lye, who stepped up as Interim Director in 2021 during a period of pandemic uncertainty and helped us re-engage as a community. A resounding success of Dr. Lye's tenure has been recruiting the two newest faculty members at the LTRI, Drs. Tatsuya Tsukahara, who studies sensory adaptation using single-cell technologies, and Michael Wainberg, who develops computational approaches to unravel the genetic underpinning of brain diseases.
As Sinai Health celebrates 100 years of life-changing care and discovery at Mount Sinai Hospital, we are also entering an exciting phase of renewal that will enable us to reimagine the research portfolio of Sinai Health and the LTRI. The commitment of Sinai Health to creating the Office of the Vice President of Research, which I now hold, is a first step in initiating this renewal.
In the coming months, I look forward to working with each member of the large Sinai Health Research family, and our partners within the Toronto Academic Health Science Network and beyond, to renew our vision for the future.
I am also excited to reveal that we will initiate faculty searches in early fall of 2023 – please visit this website for details on how to join our outstanding research community and lead life-changing discovery programs.
Dr. Anne-Claude Gingras
Director, Lunenfeld-Tanenbaum Research Institute
Vice President of Research, Sinai Health
Lou Siminovitch Mount Sinai 100 Chair