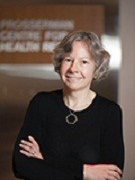 Lunenfeld-Tanenbaum
Research Institute
Mount Sinai Hospital
Joseph & Wolf Lebovic Health Complex
60 Murray Street
Room 5-237
Box 18
Toronto, Ontario
M5T 3L9
Tel.: 416-586-4800 ext.8701
► The Prosserman Centre for Population Health Research
► Web of Science Researcher ID
R-5617-2019
Dr. Julia A. Knight
SENIOR INVESTIGATOR
Dr. Julia Knight is a senior investigator, and for over 10 years was the leader of the Prosserman Centre for Health Research, at the Lunenfeld-Tanenbaum Research Institute. She is an epidemiologist and a Professor in the Dalla Lana School of Public Health at the University of Toronto.
Most of Dr. Knight's work has focused on understanding more about the causes and development of breast cancer and she played a key role in the development of the international Breast Cancer Family Registry. Her current interests include predicting which women with breast cancer in one breast will go on to develop another cancer in the opposite breast as part of the international WECARE Study. In particular, she has shown that women who both smoke cigarettes and drink alcohol are at higher risk.
She has also shown that breast density, which can be measured on mammograms done as part of routine follow-up of the opposite breast after having breast cancer in one breast, could be used to help predict risk of cancer in the opposite breast, particularly when measured following treatment.
Studying breast cancer development led her to an interest in studying breast and other pubertal development in girls. She is part of the team of investigators that established the LEGACY Girls Study that includes over 1,000 girls and is following them starting at or before puberty. The timing of puberty in girls can affect their later health in a variety of ways including their risk of breast cancer.
Dr. Knight is also studying how factors even earlier in life affect later health as part of the Ontario Birth Study and is co-leading the child follow-up component of this study. Finally, Dr. Knight has had a specific interest in the possible health effects of vitamin D and has studied the factors that determine a person's levels of vitamin D.
The main goals of Dr. Knight's research program are to understand disease development, particularly breast cancer, for two reasons: one, to develop ways to prevent disease and promote health early in life; and two, to be able to predict who is most at risk and likely to benefit from early prevention and/or screening.
At a Glance
Dr. Julia Knight studies health and disease in populations with a goal of preventing disease and promoting health.
She focuses on factors associated with developing a second breast cancer, pubertal development in girls, and other early life factors associated with later health and disease.
She has found that women who smoke and drink alcohol when they have a first breast cancer or who have higher breast density after treatment are more likely to get a second breast cancer in the opposite breast.
Senior investigator at the Lunenfeld-Tanenbaum; Professor, Dalla Lana School of Public Health, University of Toronto.
Major Research Activities
Dr. Knight's team investigates health and disease in human populations. She uses epidemiological approaches to understand modifiable lifestyle factors such as vitamin D, smoking, and alcohol in breast cancer and other diseases and in ways to study breast tissue non-invasively. She is also now focusing on factors affecting child development from before birth through puberty.