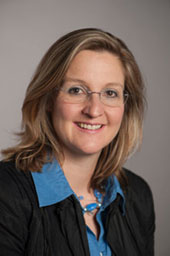 Mount Sinai Hospital
449-600 University Avenue
Toronto, Ontario
M5G 1X5
Tel.: 416-586-4800 ext.6872
Fax: 416-586-8644
Dr. Erin D. Kennedy
SENIOR CLINICIAN SCIENTIST
Colorectal Surgeon, Head of the Division of General Surgery, Mount Sinai Hospital
Dr. Erin Kennedy is a colorectal surgeon at Sinai Health and was recently appointed to Head of the Division of General Surgery. She is an Associate Professor, Department of Surgery and Associate Professor, Institute of Health Policy, Management & Evaluation at the University of Toronto. She is also a member of the Department of Surgical Oncology at Princess Margaret Hospital and the Ontario GI Cancers Lead, Disease Pathway Management Program at Cancer Care Ontario.

Dr. Kennedy has a clinical interest in colorectal cancer and inflammatory bowel disease and is an internationally recognized expert in patient-centred care, qualitative research methods and shared decision making in surgery. Dr. Kennedy currently holds several peer-reviewed research grants from funding agencies such as Cancer Care Ontario and the Canadian Institutes of Health Research (CIHR) and leads a clinical research program that is focused on developing, evaluating and implementing strategies to improve patient care in terms of quality, safety and efficiency.

She has successfully developed a collaborative network both locally, provincially and nationally and has led several multidisciplinary initiatives, including the development and implementation of a synoptic MRI report for rectal cancer across Ontario. This quality-improvement project focused on standardizing use of MRI, MCC, surgical and pathology techniques across the country.

More recently, Dr. Kennedy convened a Patient Advisory Committee and worked with this group to co-develop and implement an integrated discharge monitoring system using an interactive Mobile App for colorectal surgery patients. She is currently conducting a CIHR funded randomized controlled trial (RCT) to evaluate the effectiveness of this Mobile App to support colorectal surgery patients at home following discharge from the hospital.

Additionally, Dr. Kennedy is leading a pan-Canadian clinical trial supported by CIHR to evaluate the safety and effectiveness of non-operative management for patients who have locally advanced low rectal cancer. She is also launching a new CIHR funded multi-site RCT to determine the most effective bowel preparation method to reduce surgical site infections in patients undergoing colon surgery.
Associate Professor
Department of Surgery and Institute of Health Policy, Management and Evaluation
University of Toronto
Colorectal Surgeon
Mount Sinai Hospital
Toronto, Ontario
Major Research Activities