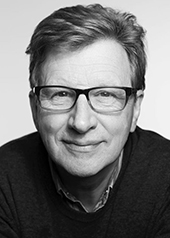 Lunenfeld-Tanenbaum
Research Institute
Mount Sinai Hospital
Joseph & Wolf Lebovic Health Complex
600 University Avenue
Toronto Ontario
M5G 1X5
Tel.: 416-586-4800 ext.8241
► Canadian Website
synapticplasticity.ca
► Web of Science Researcher ID
C-4605-2015
Dr. Graham L. Collingridge
SENIOR INVESTIGATOR
Dr. Collingridge was recently recruited from Bristol (U.K.) to the Lunenfeld-Tanenbaum Research Institute, and will be chair of the Department of Physiology at the University of Toronto (September, 2015).
Dr. Collingridge is studying the brain mechanisms that control the strength of brain cell connections, and how this fundamental property (known as synaptic plasticity) affects brain function. The work is critical for understanding the cellular basis of learning and memory. Dr. Collingridge aims to find pharmacogenetic methods to restore behavioural and cognitive function and to prevent neurodegenerative processes that afflict people with Alzheimer's and Parkinson's Disease, and mental illness.
The research focuses on the hippocampus, a brain region that is critical for learning and memory. Electrophysiological and imaging recordings are used to investigate two main forms of synaptic plasticity, known as long-term potentiation (LTP) and long-term depression (LTD). In some of the work, the team employs disease models to study the genetic and molecular signaling pathways that go awry. For example, glutamate receptors, cAMP, JAK/STAT, and calcium signals are important modulators of neuronal responses and learning and memory. Dr. Collingridge is designing and testing new therapies that aim to combat disease and restore cognitive function.
As most neurological, cognitive, psychiatric illnesses involve impairments in neuronal signaling and neuronal plasticity, the research holds great promise in helping the millions of people who are afflicted with a variety of brain disorders.
At a Glance
Aims to discover new treatments for cognitive function, mental illness, Alzheimer's and Parkinson's disease.
Researches the role of genes in cognitive function and dysfunction.
Focuses on glutamate receptors, key molecules that control the strength of brain cell communication.
Chair of the Department of Physiology at the University of Toronto.
Major Research Activities
Dr. Collingridge's group is studying the molecules and signaling pathways that control brain cell function in the hippocampus and other regions. In Alzheimer's disease and other brain disorders, aberrant glutamate receptor activation impairs learning and memory, and with time can destroy brain cells; the lab is testing new drugs to combat these effects and by modulating cell activity aim to restore cognitive function.