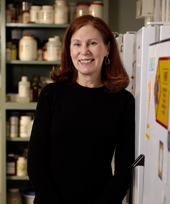 Lunenfeld-Tanenbaum
Research Institute
Mount Sinai Hospital
Joseph & Wolf Lebovic Health Complex
600 University Avenue
Toronto Ontario M5G 1X5
Tel.: 416-586-4800 ext.8256
► Web of Science Researcher ID
E-7267-2013
Dr. Irene L. Andrulis
SENIOR INVESTIGATOR
A molecular biologist, senior investigator and co-head of the Fred. A. Litwin Centre for Cancer Genetics at the Lunenfeld-Tanenbaum Research Institute, Dr. Andrulis' pioneering work in breast cancer is world-renowned. Her research on familial breast cancer has the honour of being one of only six international registries chosen for funding by the US National Institutes of Health. Dr. Andrulis also holds the Anne Tanenbaum Chair in Molecular Biology at Mount Sinai Hospital.
Dr. Andrulis and her colleagues established that a genetic test could identify women with node negative breast cancer (cancer that has not metastasized to the lymph nodes) who are at increased risk of recurrence of the disease. The study was the first prospective study on the importance of HER2 in node negative breast cancer recurrence.
A major goal of Dr. Andrulis' work is the identification and characterization of molecular genetic alterations in cancer and the application of this knowledge to clinical practice. She has developed multi-disciplinary collaborations to identify patients at greater risk of dying from breast cancer, to conduct clinical trials to find the most appropriate therapies and, as importantly, to spare 75 to 80% of women at risk of breast cancer from over treatment and its side effects. Dr. Andrulis and her team are also looking for predictors that will identify risk, prognosis, treatment outcomes and recurrence of sarcoma.
At a Glance
Research focuses on breast cancer and sarcoma
Co-Head of the Fred A. Litwin Centre for Cancer Genetics, and the Director of the Ontario Cancer Genetics Network
Identified a molecular genetic marker that is a predictor of prognosis for women with node-negative (not spread to lymph nodes) breast cancer
Initiated an international collaborative study to look at effects of genes and environment on young girls whose mothers have breast cancer
Was named a 'Women of Action' by the Israel Cancer Research Fund in 2007
Major Research Activities
Dr. Andrulis' research program investigates the molecular alterations in cancer and how these genetic events contribute to the development of human cancers. Dr Andrulis and colleagues recruited and followed clinically two large cohorts of women with breast cancer, one is a group with axillary node negative disease and the other is the Ontario Familial Breast Cancer Registry. They have also assembled a sarcoma tissue bank with corresponding clinical data. They identify and characterize genetic alterations in breast cancer and sarcoma that distinguish patients who have a recurrence of their disease from those who remain disease free. They are also trying to identify novel genetic changes that predispose to breast cancer.