Not your typical March Break: the life of an intern at the LTRI
2015-03-25
For March Break this year, some students took advantage of the time off from school to travel with families, hang out with friends, or to catch up on some much needed sleep. However, a unique group of students from local Toronto high schools did something a little different – they pursued their passion for science as interns at the Lunenfeld-Tanenbaum Research Institute for March Break.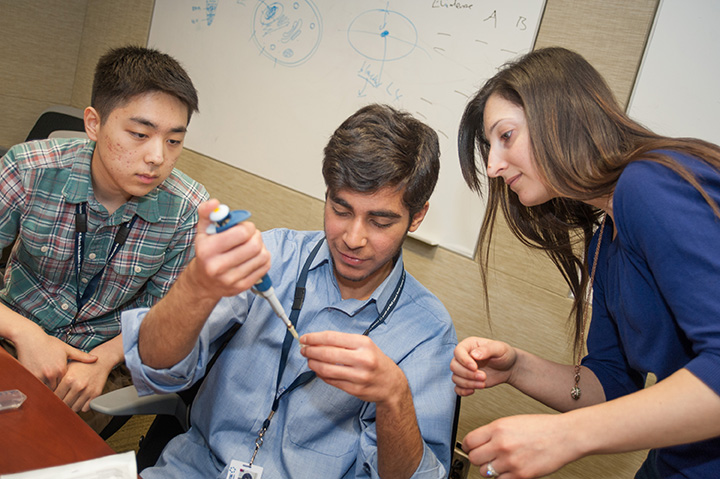 Above and below, this year's March Break interns at the LTRI were given the opportunity to tackle hands-on scientific workshops organized throughout the week by SciHigh.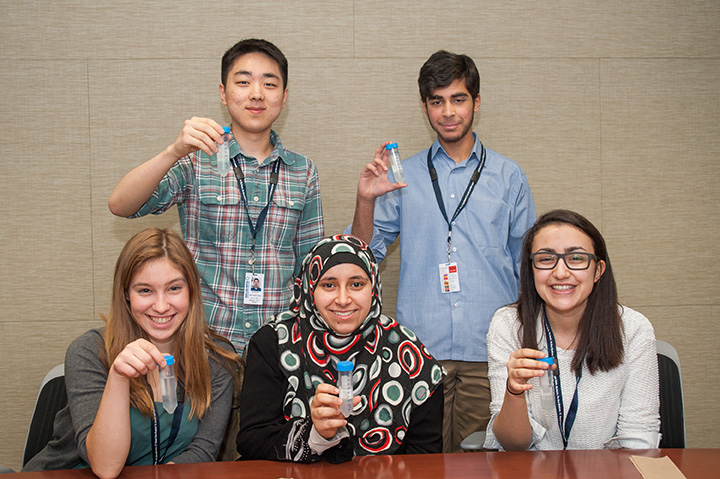 The five March Break students beat out hundreds of other high school applicants for the chance to work in the labs of scientists who are internationally renowned for their work in cancer, stem cell research, and cell biology.
One of the March Break interns was a former prize winner from an annual LTRI Science Fair for grades 7 and 8, approximately four years ago.
Now in grade 11, Shaimaa Helal credits her avid interest in science to her prize-winning project, which set out to answer the age-old question on whether it is more effective to obtain certain vitamin requirements for our bodies from vitamin supplements, or directly by eating fruits and veggies.
During the March Break, Shaimaa interned in the Durocher lab, where, with the help of her lab research mentors, she studied DNA damage and repair, which can occur through environmental exposure to sunlight or smoking, but also occurs regularly through normal biological processes like aging. Understanding how healthy cells detect and repair damage to their DNA may reveal important insights into what goes wrong in cells that become cancerous, because cancer cells have an abnormal DNA damage response.
"We learned the building blocks in biology class, but in my internship at the Lunenfeld-Tanenbaum Research Institute I can see now how it all comes together in a bigger way," says Shaimaa. She holds up her notebook with a laugh. "This filled up quickly!" She plans to pursue post-secondary studies in both engineering and science after she graduates from high school.
The March Break interns at the LTRI were also involved in hands-on scientific workshops organized throughout the week by SciHigh, a unique LTRI youth outreach program which facilitates the March Break internship for high school students each year.
One of the workshops encouraged the students to isolate their own DNA. Through a simplified oral DNA extraction method, the students swished Gatorade for a few minutes in their mouth to get cells from the insides of their cheeks, and continued to the experiment finale where they were able to see their own DNA.
While they waited for the test results from DNA samples that were being analyzed by gel electrophoresis, the interns studied different animal models such as flies that are paralyzed when it's hot, uncoordinated mutant worms and glow-in-the-dark mice.
What did YOU do on your March Break?
Check out more opportunities for students to get involved in science at http://www.scihigh.ca/sitepages/?section=1&page=4.
By Sandeep Dhaliwal