$35 Million Gift from Larry and Judy Tanenbaum Launches Fundraising Drive for Endowment to Support Medical Research
2013-06-25
Mount Sinai Hospital is pleased to announce that Larry and Judy Tanenbaum have made a transformative $35 million gift in support of research at the Hospital. In recognition of the gift, the Hospital's research institute will be re-named the Lunenfeld-Tanenbaum Research Institute. The Lunenfeld-Tanenbaum is already ranked among the top ten medical research institutes in the world and this gift will propel further growth that will transform patient care in the future.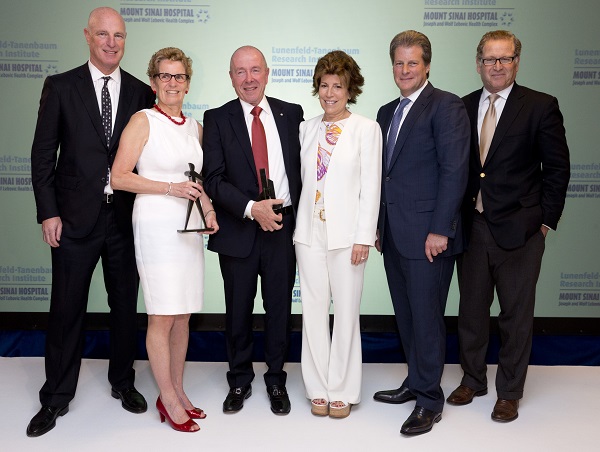 Larry and Judy Tanenbaum gift presentation conference
The gift by Larry and Judy Tanenbaum launches a major fundraising drive with the goal of achieving a $50 million endowment to sustain and grow the leading-edge research at the Lunenfeld-Tanenbaum Research Institute.
"Research is about finding answers to questions, where failure is more common than success, and where the cost of success requires time, patience and investment. Judy and I continue to be inspired and rewarded by the researchers at Mount Sinai and the quiet success they are achieving. Their discoveries are transforming the way that we understand disease and this not only positions Canada as a leader in biomedical research, but is leading the way towards how patients will be cared for in the future," says Larry Tanenbaum, Chairman of Maple Leaf Sports & Entertainment Ltd.
Mount Sinai Hospital Chairman, Jay S. Hennick, made the historic announcement today in Toronto with the Hon. Kathleen Wynne, Premier of Ontario by the donors' side.
"Larry and Judy Tanenbaum exemplify the very best of philanthropic, civic and business leadership in this country. Their invitation to other philanthropists to join them sets them apart as they inspire others to stand up as role models in the community, says Jay S. Hennick, Chair of the Board, Mount Sinai Hospital.
The gift will support the research of internationally recognized investigators working towards the prevention, detection and treatment of health conditions that are aligned with Mount Sinai's flagship clinical programs. These include cancer, diabetes, rheumatoid arthritis, maternal and infant health, neurodegenerative diseases and mental health disorders. The Lunenfeld-Tanenbaum Research Institute is home to Canada's largest research team focused on maternal and infant health and ranks #1 in diabetes research among academic hospitals worldwide.
"Larry and Judy's gift today is an extraordinary example of what can happen in Ontario when private and public investment work together. It is an inspiring act that will support our research community and change countless lives," says The Hon.Kathleen Wynne, Premier of Ontario.
Mr. & Mrs. Tanenbaum have made their gift as a catalyst to inspire additional gifts from the community, creating sustainable funding for scientists at the Lunenfeld-Tanenbaum. Thanking Mr. & Mrs. Tanenbaum was Brent S. Belzberg, Mount Sinai Hospital Foundation Chairman, who also heads the Hospital's major fundraising campaign and will work with other donors to take up the Tanenbaums' challenge and secure the full endowment target envisioned.
The Chairman of Maple Leaf Sports & Entertainment Ltd., Larry Tanenbaum is one of the country's most influential and respected business, civic and philanthropic leaders and today's announcement is the latest chapter in over four decades of his volunteer and philanthropic leadership at Mount Sinai. As a passionate advocate for medical research, Mr. Tanenbaum has chaired Mount Sinai's research committee of the board of directors and has been a strong voice for research that asks "why?" and allows vision and creativity to fuel innovative medical discoveries that will revolutionize patient care.
"I know I speak for all of the Lunenfeld-Tanenbaum scientists at Mount Sinai Hospital in thanking Larry and Judy Tanenbaum and their family for this extraordinary commitment to medical research. I also know our researchers will continue to make them, and the people of the wonderful Province of Ontario, proud," says Jim Woodgett, Director of Research, Lunenfeld-Tanenbaum Research Institute.
For more information about the Lunenfeld-Tanenbaum Research Institute of Mount Sinai Hospital, click here.
By Sandeep Dhaliwal